About InfoAge
Since 1996, InfoAge, Inc. has specialized in serving the Financial, Human Resources, and Oil & Gas Industries. Our products and services validate critical data elements to manage customer contact and industry compliance.

InfoAge's strength is delivering critical digital identifiers for both individuals and businesses, utilizing over 1000 data sources and proprietary Data Refining Technology. This insures the highest level of accuracy. Clients also benefit from our ability to provide industry insight while developing and deploying customized solutions.

InfoAge is positioned on the leading edge in the development and deployment of our products and services, exceeding the demands of both our customers and their regulatory bodies.
InfoAgeSearch.com
Access, Validate or Update Individual / Business Identifiers
Name • Address • Phone Number
SSN / EIN • Date of Birth
Features Include
128 Bit Encryption Internet Browser Access
Database of 280+ Million Individuals
1000+ Public and Commercial Data Sources
On-Line Activity Archive
Simple Data Entry
Redundant Inquiry Alert (SSN Only)
Unlimited Users Per Account
Integrated OFAC Screening
Batch Processing
Flexible Input / Output Formats
Secure FTP File Transfer
Volume Based Pricing
Result Statistics
Unique Record Identifier Maintained Between Input & Output
Data Analysis Indicators with Each Record
Email Notifications (File Received / Complete)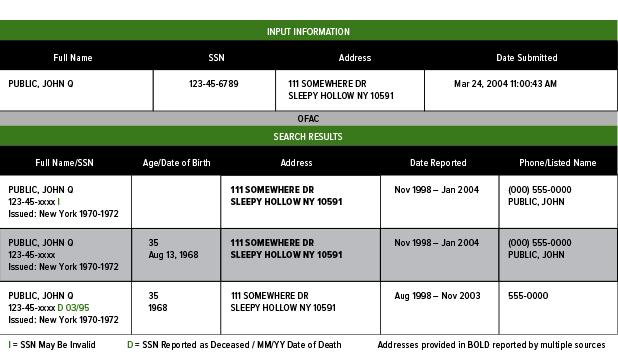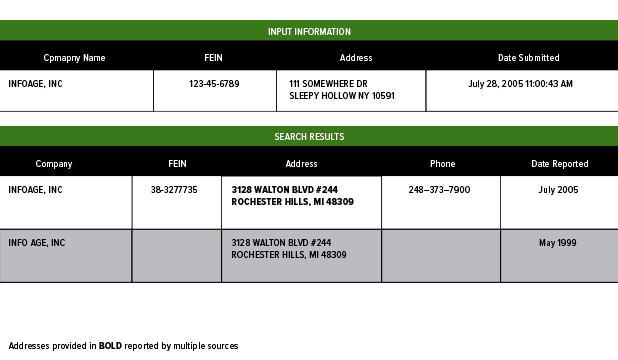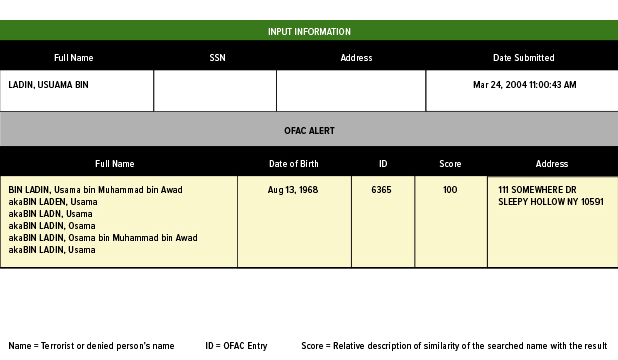 DM
ƒ(x)
A Functional DMF Solution Providing Exact and Fuzzy Logic Matches Against the Social Security Administration's Death Master File
Features Include
Search with SSN and/or Name and Date of Birth
Searches Conducted via Secure Internet Browser or Secure FTP File Transfer Batch Processing
Unlimited Users Per Account
Flexible Batch Input / Output Options (Text, CSV or HTML)
Online Activity Archive
"Relative" Score Provided for Each Result
Customized Scoring Models Available
Logical Reason for Match Provided for Each Result
Flexible "Fuzzy Logic" Rules
SSN Rules
Exact SSN (All other input ignored)
Two Digits Different
Transposition of Any 2 Digits
Incomplete SSN (7 or 8 digit subset provided)
Date of Birth Rules (When SSN is Supplied)
One Digit Different
Transposition of Day and Month
Partial Match (Match to incomplete or invalid DMF Data)
Two Year Rule (If the SSN is an exact match
DOB is considered a match if the dates are within 2 years
Rule will impact score only as all exact SSN records will be returned
Date of Birth Rules (When SSN is Not Supplied)
Transposition of Day and Month
Partial Match (Match to incomplete or invalid DMF data)
First Name Rules
Nicknames (4 sources including pdNickname database)
Initial Instead of Full Name
Data Entry Errors
One character different with names of at least 5 characters long
Modifications to number of characters available
First and Last Names Reversed
First and Middle Names Reversed (Including initial)
Compound First Names (Separated by a space)
Both names also considered unique first name
Phonetic Match (Proprietary algorithm that includes "Metaphone")
Different First Name (If SSN and DOB match exactly)
Last Name Rules
Compound Last Names
Both names also considered unique last name
Apostrophe or Punctuation is Ignored
Data Entry Errors
One character different with names of at least 5 characters long
Modifications to number of characters available
Phonetic Match (Proprietary algorithm that includes "Metaphone")
Truncated Names
First 5 characters match
Modifications to number of characters available
Additional Services
National Change of Address (NCOA)
New Mover Information Provided by USPS
Address Standardization
Identify Undeliverable & Incomplete Addresses
Canadian National Change of Address (CNCOA)
New Mover information Provided by Canada Post
Address Standardization
Complies with Canadian Privacy Laws
Canadian Deceased Verification
Search Name, Address and/or Date of Birth
Confidence Codes and Reliability Indicators Provided
OFAC Screening
Identify individuals on U. S. Treasury SDN List
Patriot Act Compliance
Custom Solutions
Design, Host and Manage Customer Applications
Integrate InfoAge Products and Services
Database Management
Storage / Analysis / Integration
"Big Data" Analytics